Why implement this Booster?
• To increase sales and orders
• To encourage and attract return customers
• To market your specials and promotions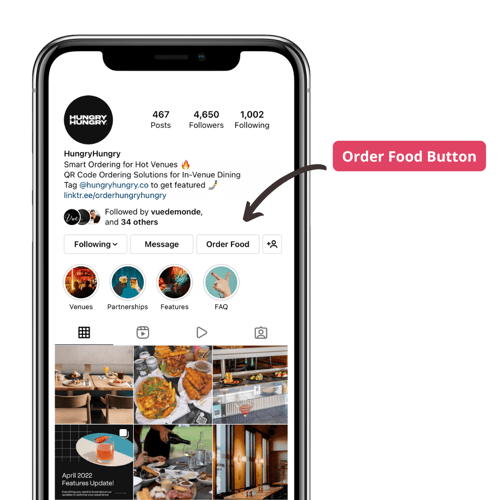 What is the Instagram Order Food Button?
Setting up food orders on Instagram gives people a way to support your business. When someone taps the Order Food button on your Instagram profile or the Food Order stickers in your Instagram story, they'll be directed to your HungryHungry website to order pick-up or delivery!
Instructions for implementing this Booster
How to add Instagram Order Food Button
Go to your Instagram profile.
Click on 'Edit Profile'.
Under 'Public business information', click on 'Action buttons'.
Under 'Select a button', select 'Order Food'.
Select 'HungryHungry' for your business's food orders.
Add your HungryHungry site link.
After you've entered the website, tap 'Done' (iOS) or '✓' (Android).
NOTE:

To enable food order buttons and stickers, your Instagram account must be a

business or creator account.
How to add Food Order Stickers to your Instagram Stories
Select a photo or video to upload to your story.
Select the 'Food orders' sticker.

Move the 'Food orders' sticker to where you would like it to appear on your story. You can also tap the sticker to change its colour.

Share your story.
NOTE:
Only one "Food orders" sticker can be added per story.