Using data to grow your restaurant sales and profits
Go Back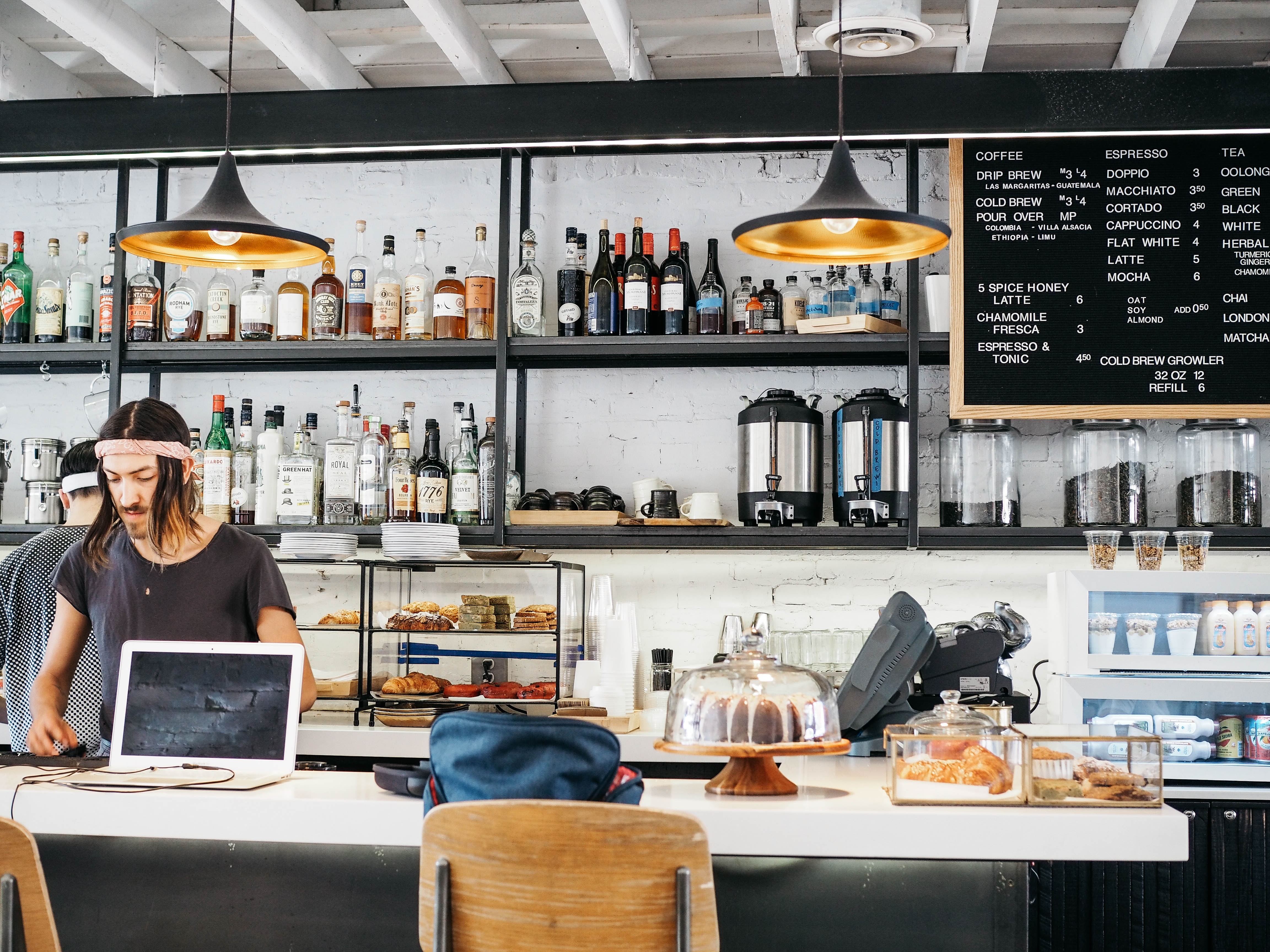 "You can't improve what you don't measure" is famously attributed to management guru Pete Drucker. Whether you have a small café, large restaurant, or multiple sites, reliable data is critical for analysing performance and setting your business up for success.
The right data and insights can drive decisions that serve up increased restaurant profits. As a Hospo business owner, your gut instinct counts for a lot. Having data to backup your ideas can give you the confidence to put plans into action.
But figuring out what restaurant data analytics you need can be a hard nut to crack. You don't want to be switching between platforms that don't talk to each other to understand your venue's strengths, weaknesses, and opportunities.
HungryHungry is designed by Hospo professionals to create a deliciously profitable sustainable hospitality business. We sit behind your brand with one easy to use platform where you can manage menus, orders, delivery, pick-up, marketing, feedback and more.
And, with HungryHungry's data analytics solution, you get actionable insights that will really get the profits cooking.
Unlock powerful insights
We know you have bigger fish to fry than wasting time poring over spreadsheets to extract meaningful information from your figures. HungryHungry's restaurant platform features a built-in dashboard with at-a-glance metrics for busy venue owners like you. No restaurant software or app required.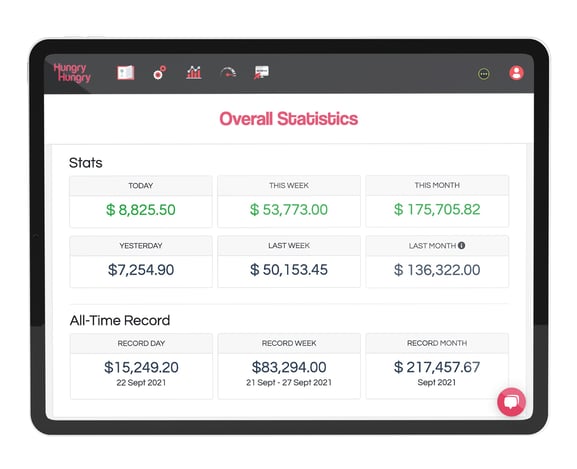 Real time data
Get access to real-time data and respond swiftly to changes in customer preferences. Whether you geek out on figures and want to dig into the details or just need topline stats, the intuitive dashboard quickly gives you the information you need.
Real-time means just that. As soon as a customer pays for their order through your digital menu, it appears in the dashboard.
Instant sales reports
Satisfy your cravings for data with instant sales reports by fulfilment type and date range. Report on sales and refunds, drill down to orders and filter by how they paid, order total, if they used a promo code or orders of a specific item.
Filter by date and compare this week's sales with last week or the same time last year to better understand what's fuelling growth. Assess day-to-day fluctuations in sales to identify what's working and what's not.
Quick stats
HungryHungry founders have 20 years of blood, sweat and tears working in Hospo. We know the essential stats you need to make decisions. Get the critical info instantly from the Quick Stats board. View orders served, items sold, daily sales and total sales in one place.
Connect the dots with restaurant data analytics
They say that "data will talk if you're willing to listen." But sometimes you need to join the dots with different data sets to really get your metrics talking.
Location sales heatmap
Discover which suburbs are hot, with heatmap views around each venue. Heatmaps colour-coding order numbers by location, making it easier to visualise and identify trends.
Find out the best performing suburbs and which neighbourhoods order most frequently. View how many orders were delivered to various areas last week or month and reward loyal fans with special deals.
Identify areas that need some marketing love and use the built-in HungryHungry marketing feature to create an irresistible offer. Monitor campaign effectiveness in real-time
by viewing orders on the heatmap.
Track what customers do
Get more granular info about customers by installing a Google Analytics tracking code and Facebook pixel on your HungryHungry site.
Google Analytics tracking codes allow you to analyse the flow of visitors and their activities by tracking events such as clicking on menu items or images, button clicks, form submissions, reading reviews, checkouts and cart abandonment.
Simply open a Google Analytics account, generate the tracking ID and copy and paste it into the relevant field on your HungryHungry back end. No developer and no plugin needed.
Installing the Facebook Pixel on your HungryHungry website enables you to measure the effectiveness of Facebook advertising by understanding the actions people take on your website after clicking on an ad. Examples include adding items to a shopping basket or making a purchase. The pixel can also apply machine learning to ads to target people who are more likely to purchase.
Manage pre-orders
As customers increasingly seek practical at-home meal solutions, more venues are serving up heat-at-home options, meal kits and mid-week meal deals.
Online food delivery is set to become a US$200 billion global industry by 2025. The Australian ready-meals market will be worth $1.58 billion by 2024. There's no doubt that our growing appetite for convenience creates enormous opportunities for Hospo venues, so it makes sense to turn on the HungryHungry's Order for Later feature and sell in advance.
HungryHungry makes pre-ordering a breeze with custom reports that help you manage staffing, inventory, delivery and collection orders for the week ahead.
Create a list of all the orders due on a particular day or set of days by venue. View a summary of orders listing the quantity for each day or export a list detailing orders by the day.
How to increase restaurant sales using data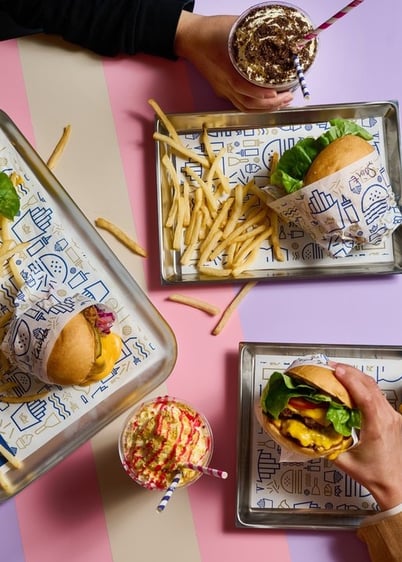 In a time of change and excitement, HungryHungry brought to the plate exactly what was needed for Royal Stacks, Melbourne's home of addictively fresh burgers.
The king of burgers wanted to reduce customer waiting times and free up staff by minimising order taking times. They also sought to increase spend per purchase by creating a menu aligned with Royal Stacks branding that was visually appealing for customers.
Using HungryHungry data as a baseline, Royal Stacks seamlessly tracked the effectiveness of their new digital menu and Collect@Counter experience.
The results?
10% increase in orders per month after using Collect@Counter

9% increase in order spend compared with cashier orders

36% decrease in average wait time
Lines to order food are shorter, making staff more available for essential operations. Royal Stacks' ordering platform is perfectly branded for the venue and easy for them to use. Customer wait times have decreased while sales have increased, with a higher average spend.
It's a win for Royal Stacks and a win for customers.
HungryHungry can get data working for your venue
Wondering how to increase restaurant sales and profits? Get cooking with stunning digital menus, ordering and reporting that's a pleasure to use.
And you always get to keep access to your own customer data. That's why 1,500+ Aussie venues use us. HungryHungry doesn't just give you a slice. You get the whole pie.
While you're on the field giving it your all, we're cheering you on with 24/7 online help and an on-call customer care team.
Find out how HungryHungry can get data working for you.
Book a demo today.